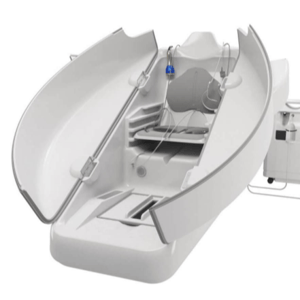 Because of its unique way of delivering ten treatments at once, the HOCATT sauna is one of the most exciting new trends to hit the wellness scene. One session in a HOCATT sauna provides many of the same benefits as spending hours in individual treatments, making it a perfect option for anyone who finds it hard to add wellness and self-care to their busy schedule.
So what can a HOCATT sauna do for you? Let's dive into the HOCATT sauna's list of benefits and learn how it works.
What does the HOCATT do?
One, 30-minute session in the HOCATT sauna can provide incredible benefits including:
Improved circulation
Anti-aging through increased blood oxygen level
Improved immune function through increased core body temperature
Full body detoxification
Eased muscle tension
Improved energy levels
Burning calories
Sense of well-being from serotonin increase
Elimination of bacterial and viral infections
How can one short treatment provide all these incredible benefits? Let's break it down.
The HOCATT sauna's unique way of delivering multiple health benefits in a short amount of time relies on a perfectly sequenced series of treatments working together. The HOCATT sauna's unparalleled healing capabilities come from Hyperthermic Ozone and Carbonic Acid Transdermal Therapy. HOCATT saunas use cutting-edge technology, so these treatment methods may sound unfamiliar to you. While many of the HOCATT's modalities are unique, some of them are familiar and are even offered at ReSet Lounge as standalone treatments, such as infrared sauna, aromatherapy, and PEMF.
But what is the HOCATT you ask?
The HOCATT is a personal sauna that encapsulates the body while the head and neck remain exposed. The HOCATT capsule begins the treatment cycle by producing far infrared sauna waves, which reach deeply into the body to raise core temperature, effectively producing whole-body hyperthermia. These infrared waves combine with the benefits of a carbonic acid-infused steam sauna to prepare the body for the next phase of treatment. Carbonic acid increases the uptake and delivery of oxygen at a cellular level. Once the carbonic acid cycle is complete, the ozone cycle begins. When ozone encounters the steam, it produces H202, which goes to work destroying bacterial and fungal infections. The ozone is administered transdermally (through the skin), within the sealed HOCATT capsule. Ozone can damage the lungs if inhaled, which is why the body is enclosed in the HOCATT capsule, while pure oxygen is gently administered through inhalation. This method of administration makes the ozone completely safe.
These functions are powerful on their own, but the HOCATT sauna takes your treatment even further. The primary functions of the HOCATT are enhanced with High intensity PEMF, pure oxygen breathing, essential oil aromatherapy, photon light and color therapy and ultraviolet irradiation. The HOCATT sauna is truly a one-stop shop for so many highly effective treatments.
Is the HOCATT sauna right for you?
The HOCATT sauna experience provides deep detoxification, healing, and increased well-being in very short sessions. Just thirty minutes in a HOCATT sauna will leave you with lasting benefits. Adding the HOCATT sauna to a wellness routine is ideal for someone who wants big results without spending a lot of time.
A well-balanced wellness routine includes a variety of modalities. Taking some time to slow down in our infrared saunas, pausing for a long sit in our salt cabin, or deeply relaxing into an aromatherapy massage will provide some of the same benefits as a HOCATT session, but in a different way. The HOCATT sauna provides many modalities efficiently. Having a balance of fast, effective treatments with restful, slower modalities will provide you with a deeply healing wellness routine.
At ReSet Lounge, we are always striving to provide the most innovative and effective modalities for optimizing health and wellness. We are thrilled to add the HOCATT sauna to our extensive list of offerings. Experience the HOCATT sauna for yourself by booking your first session!