The Healing power of sound
Healing with sound is believed to date back to ancient Greece, when music was used in an attempt to cure mental disorders. Throughout history, music has been used to boost morale in military troops, help people work faster and more productively, and even ward off evil spirits by chanting. More recently, research has linked music to a number of health benefits, from boosting immune function and lowering stress levels to improving the health of premature babies.
At ReSet, we work diligently to seek out new - and old - proven methods of improving our overall wellness. Our Sound Therapy Services are a great example of this. Vibroacoustic Therapy was first developed in the 1980s, but the delivery methods have really improved in recent years. But Sound Baths have been used for over 2000 years in Tibetan practices, and some would say originated as far back as the invention of the gong - approximately 16000 B.C.! Come and experience the power of sound at ReSet!
Sound Baths at ReSet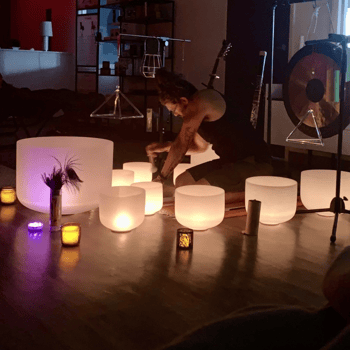 Steve's Sound Journey event is unique. He starts off by playing acoustic guitar, guiding participants through some breath work to slow down the mind and tune into the body. Let go of busy days and the past by being guided through a mindfulness meditation. Steve will then bathe the room with the soothing and healing sounds of quartz crystal bowls, gongs, chimes and much more.
Working through the chakras allowing the vibrations to move around the room and work their magic. You will leave energized yet relaxed. Ready for a great night sleep and the week to come.
Benefits of sound baths include:
Deepened relaxation
Lowered stress and anxiety.
Improved mood and well-being.
Improved sleep
Heightening focus and energy
A feeling of rejuvenation
Come in comfortable clothing ready to relax! We provide an outdoor zero-gravity lounger, blanket and eye mask. We ask that you arrive 15 minutes early to allow time to settle in. Check out the schedule here.