A Peaceful Oasis Designed to Help You Reset
Four Local Women Pool Talents to Launch 'ReSet Lounge' in Chagrin Falls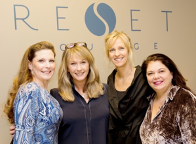 Chagrin Falls, Ohio (Issued August 2020) -- During 2019, four women--mothers to a total of 11--decided there was something missing in their otherwise idyllic Village of Chagrin Falls, a suburb of Cleveland, Ohio. "We're fortunate to live in such a peaceful place," says co-founder Beth Johnson, "but we realized that families everywhere, at some point in their lives, experience issues related to marriage, separation, divorce, ADHD, anxiety, depression, suicidal ideation, addiction, chronic illness, autism, aging and loss of loved ones, strokes, heart attacks, cancer, dementia and more. And the strain of those is compounded by the 24/7 news cycle, in addition to the pandemic."
She adds, "There was no oasis where people of all ages could go to take a breath, to catch up, to reset from the many difficulties life brings. Managing the stress and anxiety of today's world, and the toll it can take on your body and mind, is a daunting task. Life can be hard. We wanted to create a space that made it a little easier." And that was the birth of the ReSet Lounge, a 3,600 square foot health and wellness studio at 530 East Washington St., Chagrin Falls.
In addition to their shared philosophy about healthy living and a strong family life, each founder brought special skills and experience to the new enterprise: Vicky Childres was a fashion director for Saks Fifth Avenue, owned a home décor shop, and is currently CEO of CGL Real Estate Holdings (and lead singer of Soulshine). Beth Johnson is a long-time business executive and technology consultant. Leigh Kruszenski is a Certified Functional Medicine Health Coach, passionate about empowering people to be stewards of their own health. And Beth Rowell is a Certified Personal Trainer with 20+ years of fitness industry experience.
Co-founder Kruszenski says "ReSet's services target inflammation, pain, toxins, stress and anxiety while promoting circulation, strength, happiness and sounder sleep." These unique services include cryotherapy, infrared saunas, salt therapy, massage and compression chairs, whole body vibration, zero gravity positioning, vitamin IV infusions, supplements, and NuCalmÒ neuroscience therapy. ReSet's trainers and coaches offer personal training, health coaching and advice on vitamin supplements to boost one's immune function.
One of Reset Lounge's most popular offerings is the award-winning, FDA-approved NuCalmÒ therapy, clinically proven to combat stress and improve sleep patterns, to 'reset' important systems in your body. Without drugs or side-effects, NuCalm calms the body by counteracting adrenaline, stimulating microcurrents, calming the pace of brain waves, and blocking visual stimuli to encourage relaxation. Research shows that a 20-minute session may provide the equivalent of up to two hours of deep, restorative sleep.
The NuCalmÒ system involves a biosignal processing disc placed on the wrist, noise-cancelling headphones, the NuCalm App providing neuroacoustic software, and an eye mask, while resting in a zero-gravity recliner.
One 16-year-old NuCalmÒ user said, "I felt like I was back in the womb--so safe." The mother of an 8 year old with ADD cried while watching her daughter's session, and exclaimed, "I never saw her so still and relaxed before." A 21-year-old who struggled with insomnia since age 11 tried several traditional cures until she found NuCalmÒ at ReSet: "My body and mind were so relaxed after my first session yet I felt completely energized - I decided I needed to use NuCalm daily. I bought my own unit and now my overall sleep quality is much more restful, and the anxiety I had for years is finally relieved."
Adding NuCalm to the vitamin IV infusions allows a client to 'stack' their recovery; as NuCalm puts the body in a parasympathetic recovery state and allows for a better absorption rate while stress is reduced.
When asked about the ReSet Lounge concept, Johnson said she, "wanted to make services available that I wish I had when my children were younger. I realized that in my middle-aged life, I was the perfect client." Co-founder Childres said, "I wanted to create a space where one could unplug and escape the noise of our 24/7 news cycle world -- a space where the mind and the body could take a deep exhale, a space where one could solely focus on a mind and body reset."
Kruszenski adds, "Having gone through my own health journey and realizing that lifestyle changes can have such a profound impact on overall wellness, I wanted to create a space with resources and services to help people find the tools to make them feel better."
And co-founder Beth Rowell said, "After going through profound struggles with one of my children, and knowing how a place like ReSet would have been a refuge for both of us during that difficult time, I knew I wanted to be part of creating a place where people could come to recover physically and mentally from the chaos of life… There are many benefits to meditation, but it can be challenging. NuCalmÒ does all the heavy lifting for you and coaxes your body and mind to a deep, restorative state."
Rowell continued, "Once you experience NuCalmÒ, you're a convert. Clients travel 35 miles or more to experience our services. Some come from as far as Akron and Youngstown. Another reason for our success: We offer a specialized Midwest combo of wellness services under one roof."
The patented NuCalmÒ technology has won awards at the Consumer Electronics Show, was featured on NBC's Today Show, and has been used for years by professional athletes and elite military operators to achieve accelerated recovery without drugs.
Sessions at the ReSet Lounge range from 20 – 60 minutes for all services and can be reserved online. Prices range from $20 to $60 depending on the service and session length. For more info or to book an appointment, download the ReSet Lounge App or call: