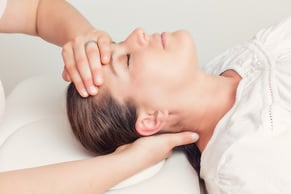 Craniosacral Therapy (CST) is a gentle, non-invasive yet powerfully effective technique for enhancing a person's well-being.
A CST practitioner uses light pressure to manipulate the cerebrospinal fluids surrounding the cranial bones, spinal cord and sacrum. Working with the subtle movements of these fluids, a practitioner can help to restore balance in the central nervous system, allowing for deep healing and relaxation throughout the body.
What is Craniosacral Therapy?
The Craniosacral system is actually a pressure-stat system. Using gently applied pressure, the practitioner decompresses this system by removing restrictions and unwinding the dural tube, restoring the natural cranial flow and rhythm. Once the body is relaxed at this core level, self-regulation, self-healing and immune function can operate more optimally. When the central nervous system is happy, everything is happy!
You can expect to leave your session feeling deeply relaxed and restored; likely experiencing immediate relief from pain and an overall feeling of well-being.
While the relaxation effects of CST can be deeply felt and enjoyed after one session, continued treatment can help correct many chronic issues.
Some of the issue that CST treatments have been known to help include chronic neck and low back pain, migraines, TMJ, ADHD, stress-related disorders and insomnia. The Cleveland Clinic recommends CST treatments for these disorders and many others.
According to one of the foremost teachers of the method, CST can help with the symptoms of ADD or ADHD. It is even safe and gentle enough for infants and children.
CST Considerations
Craniosacral therapy is a gentle and non-invasive treatment that can benefit nearly anyone, even those who are unable to receive a traditional massage. However, you should consult your physician and CST practitioner before receiving treatment if you have experienced any of the following:
Recent concussion
Cerebral swelling
Structural defects in the cerebellum, such as Arnold-Chiari malformation
Brain aneurysm
Traumatic brain injury
Blood clots
Any disorder that causes instability of cerebral fluid pressure, flow or build-up
ReSet Lounge offers both 60 minute and 90 minute CST sessions. You are sure to feel the relaxing effects of this incredible therapy with a single treatment. When combined with other ReSet Lounge treatments, such as Sound Therapy or NuCalm, you will experience such deeply restorative relaxation that your mind and body will be thanking you for days.