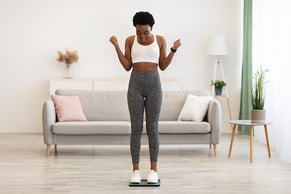 The Slim Shot has been used successfully in combination with weight loss programs for over 30 years and could enhance your weight loss efforts; to the tune of an additional 1 - 2 pounds per week.
The Glow Wellness / ReSet Lounge Slim Shot is an injection given once or twice weekly. Each shot consists of a combination of B vitamins and other essential amino acids which are not readily available from the food we eat.
Together these nutrients in the Slim Shot play an important role in helping stimulate your metabolism to release stubborn fatty deposits. The inclusion of vitamin B12 will give you a boost of energy, helping to increase your activity levels.
Vitamins and Amino Acids for Weight Loss and vitality
When taking a closer look at the ingredients inside each Slim Shot it is clear that the Slim Shot does more than just help with your weight loss efforts.
Methionine, supports the digestive system by helping to remove heavy metals within the body while breaking down fat deposits. Methionine can also be converted to cytosine, the precursor of glutathione, which is essential in detoxification of the liver.


Inositol, supports the transfer of nutrients at the cellular level and helps converts fats into other useful forms of energy.



Choline, assists in controlling cholesterol levels in the blood. Choline is also directly involved in the maintenance of the nervous system, assisting memory, and is critical for normal cell membrane structure and function. Choline is the precursor of betaine which helps liver function and in the formation of the neurotransmitter acetylcholine.
Methylcobalamin, (Vitamin B12) is essential for forming new, healthy cells in the body. It also boosts energy as mentioned before.
The Slim Shot Protocol
The Slim Shot is ideal for anyone who's hit a wall in their weight loss efforts. While these weekly injections are not a replacement for a good diet and regular exercise, they may rev up your body's metabolism to operate at peak efficiency, helping you lose weight more quickly.
Our Slim Shots are safe, composed of natural vitamins and amino acids and they are typically given once to twice a week, over a period of about 3 months. The exact treatment plan will be determined on an individual basis. Apart from the little prick when they are administered, our Slim Shots are pain-free and you can go about your day immediately after your injection.
If you want to lose those unwanted pounds, gain more energy and a greater sense of overall wellbeing then our Slim Shot, may be your best shot!!