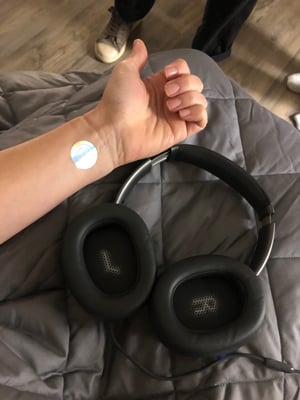 Fall is a time of change. Many of those changes bring with them the excitement and anticipation of approaching holidays, the delights of a new season, and of course, kids going back to school. However, change can also bring an increase in stress and anxiety, especially in teens. Teens today have a difficult road ahead, one that can be hard for them to navigate on their own.
Facing Teenage Anxiety
Teenagerhood is a stressful time for everyone, but studies show that the burden felt by today's teenagers is causing an increase in anxiety and depression. The effects of COVID-19, remote learning and social media pressure are just some of the stressors contributing to the increase in these conditions in teenagers.
As a parent, it may be difficult to find methods of stress reduction that work for your child. There are many factors that make teenage stress management a complex and delicate process, but NuCalm is here to help.
How NuCalm Can Help Your Child
Advancements in stress management therapies continue to adapt to the ever-changing needs of our modern society. NuCalm Neuroscience Therapy is the world's most powerful neuroscience platform when it comes to managing stress, improving sleep, and increasing focus. With all the distractions fighting for their attention, it can be hard to convince your teen to take time to truly relax and unwind from the stress of the day. This makes NuCalm an ideal stress management choice for teens.
Studies done on NuCalm technology at Harvard and Stanford have proven that just one, 20-minute NuCalm session provides the same restorative benefits as two hours of deep sleep. This can have a profound impact on the overall level of stress your teen may be suffering from. Once your teen feels the effects of these short treatments, they will want to make it a part of their busy day. Watch this video to see for yourself what's involved!
Many parents prefer to take a holistic approach when it comes to supporting their teens and may want to avoid medication as a means of stress management. A NuCalm session is quick and pleasant and does not rely on medication to achieve powerful results.
Schedule a NuCalm Session
While the benefits of NuCalm can be felt with one treatment, its effects are optimized when used 3-4 times weekly. Your teen can experience a restorative NuCalm session at ReSet Lounge, or enjoy treatments right from your home. Click here to read more about this incredible, stress management system or click below to schedule an appointment!