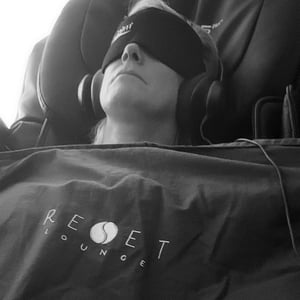 The ReSet team loves weighted blankets and pairing them with some of our key services: NuCalm, Massage and Compression Chairs, Salt Therapy and Vitamin Infusions. Anecdotal feedback from our clients confirms that they add to the ReLaxing and ReStoring effects of our treatments. Beyond the anecdotes, what is the science?
Why the Weighted Blanket?
The use of weighted blankets originated as a therapy for children with intense anxiety, autism, post-traumatic stress disorders and other mental health challenges. Deep touch therapy was at the root, but the weighted blanket concept evolved as a delivery method. Touch with weight creates a calming effect; the pressure on the body encourages the production of serotonin – a feel good hormone. The blanket idea evolved to evenly distribute the weight across the body and to allow for variation in how much weight. We use and sell 10-pound blanket at ReSet, which may be a lower level for some adults but a great choice for the general population.
Some key benefits of a weighted blanket:
Hugs: Snuggling up with a weighted blanket feels like you are being hugged. It makes you feel good. It makes you feel comforted. In our socially distanced world, our hug count is way down or non-existent for those quarantining alone. Humans need touch; so this is a good thing!
Better Sleep: Sleeping with a weighted blanket can help you fall asleep and stay asleep; again, it is all about the deep touch therapy and serotonin. Many of us are operating with a sleep deficit. This is an easy and comfortable option to try.
Lessen Anxiety: Taking time out to self-sooth and experience the calming benefit from the even distribution of weight on your body helps (serotonin). Side benefit, the less anxious the easier it is to sleep.
Weighted blankets at ReSet…
courtesy of the den of mothers
One of our associates called us the "den of mothers" and we take it as a compliment! When preparing to offer services, we do spend much time on adding in special touches that help the experience be the most relaxing and beneficial.
NuCalm: When doing NuCalm, the neuroscience behind the treatment talks to your nervous system directly for relaxation, anti-anxiety and healing properties (there are many). Our delivery of NuCalm also includes zero-gravity via our Svago chairs and the use of a weighted blanket to help your body calm and allow the NuCalm program to do its thing.
Massage and Compression: Our medical-grade massage chairs are amazing; with a host of benefits for circulation, pain relief and general relaxation. It is like a four hand massage and a foot massage happening all at once! The addition of a weighted blanket applying even pressure on the front of your body just makes it better! We also provide calming music and guided meditations to just add another kiss.
Vitamin Infusions: Delivering nutrients to the body with 100% absorption is terrific, healthy and an immune boost. However does anyone really love IVs? Sometimes the process of an IV infusion can raise a bit of anxiety. We deliver our IVs with extra comfort. While using the zero gravity chairs, we offer to pair NuCalm while you are receiving the IV and we offer a weighted blanket for the calming effect.
If you haven't tried a service yet, or simply want to tryout a weighted blanket – come in! We also offer ReSet weighted blankets for sale in the lounge if you love it so much you need one at home!