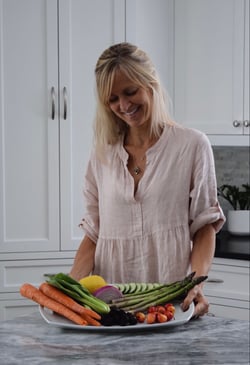 This pandemic has reminded me that there are things that we can manage in the midst of so much uncertainty. While we can't control this virus or most of what's happening in the world, there is an opportunity to shift our thinking and do more to take care of ourselves. With nourishing food, quality sleep, daily movement and stress management, we can decrease inflammation and build physical and mental toughness to be better prepared for whatever may come.
Most of my life, I struggled with acne and then developed early onset osteoarthritis in my early 40's. Both of my parents had multiple joint replacements so I figured I was doomed… until I found Functional Medicine and Dr. Jessica Hutchins. My eyes were opened to the value of food and proper supplementation as medicine. I learned that the acne and arthritis were signs that my body was inflamed.
The initial protocol of Functional Medicine involved eliminating gluten, dairy, and sugar—foods that are known to cause inflammation. It was difficult and felt restrictive, but I was willing to try anything to stop the daily need for medicine. I didn't have results overnight, but after about a month, I had significantly less pain and overall felt better. I learned to listen to my body, and to recognize what foods gave me energy and what foods made me hurt and feel sluggish.
In my continued effort to reduce inflammation, I don't follow a specific "diet", but focus on eating whole foods with LOTS of vegetables and limited sugar. I'm sharing one of my favorite dinners that is both nourishing and loved by the fam. Some of the recipes are basic and some require a little more effort but, in my opinion, they are worth it. I like to make extra so we have leftovers, which I look at as prepared lunch for the next day!
Quality food is expensive but, in the long run, it's cheaper than sickness, surgery and a lifetime of medications. I try to vote with my dollars and buy organic produce, wild seafood and pasture raised meat and chicken. I feel fortunate that we have access to quality grocery stores and many local farmers markets in the summer. I hope you find enjoyment, strength and comfort in these cooking ideas!
Roast Chicken – Beer Can Style
I love to roast a whole chicken for a delicious dinner and to make broth. I used to make huge batches of chicken broth only to be overwhelmed by how to store it. Now I just make a small batch to use for the week. It's an excellent source of collagen that is great for your joints and skin.
Ingredients:
1 or 2 organic whole chicken(s)
Avocado oil
Salt & pepper
Seasonings of your choice
Chicken broth, wine or beer of your choice
Rub the chicken(s) with avocado oil, salt, pepper and seasonings of choice (can be italian with oregano, basil, parsley, garlic and rosemary, or more of a bbq flavor with smoked paprika, cayenne, cumin, garlic and onion). Herbs are great antioxidants so season generously!
Place the chicken over a can filled halfway with broth, wine or beer.
Using the legs as a tripod, place on a baking sheet.
Roast in oven or on the grill (indirect heat) for about 1 hour at 375 until the temperature in the breast is 165 degrees and the juices run clear. Let rest for 5-10 minutes and then carve.
Chicken Broth
After dinner, scrape the drippings from the Roast Chicken pan and add all the bones into a regular saucepan. Cover with water and add a teaspoon of apple cider vinegar. I like to add onion, celery, carrots, herbs (thyme, oregano, rosemary) and any trimmings of the vegetables I've used for dinner.
Cover and put on the stove at the lowest simmer. Cook for about 24 hours. Strain and save in a glass mason jar.
Broth is a great source of collagen & protein and can be enjoyed by the cup or used to make rice or quinoa.
Lemon Dill Quinoa Salad
This is a crowd pleaser that is great to make ahead and is even better the next day.
Ingredients:
2 cups quinoa
4 cups water (I don't use broth for this recipe)
2/3 cup lemon juice
2/3 cup olive or avocado oil
1 teaspoons sea salt, plus additional for taste
½ teaspoon fresh ground pepper, plus additional for taste
½ cup toasted pine nuts
½ cup sliced green onions
Fresh dill (or herb of choice), chopped – about ½-¾ cup
Cook quinoa according to package directions. I like to cook for the minimum amount of time so there is still some "bite" to the quinoa.
In a small bowl, make the dressing, by whisking together the lemon juice, olive or avocado oil, 1 tsp salt and 1 tsp pepper. Add to cooled quinoa. (If you add the dressing to hot quinoa, it will turn mushy. Also, this may feel like a lot of liquid but the quinoa soaks it up.) Then mix in the pine nuts, green onions, fresh dill, and additional salt and pepper to taste.
Roasted Broccoli
Using the amount of broccoli you want to serve, rinse and remove the main stalk. You can chop them into bite-size florets or as large bunches depending on your preference. Toss with oil, salt and pepper. Then roast at 375 for 20 minutes. Serve with Tahini Yogurt Sauce.
Tahini Yogurt Sauce
Just mix these ingredients together:
¼ cup tahini (like a sesame seed butter)
½ cup greek yogurt (I use Kite Hill Almond or Goat yogurt)
Salt and pepper to taste
Cayenne pepper (optional)
Sautéed Purple Cabbage with Red Onions
We make this a lot because it's nourishing, pretty and delicious!
Ingredients:
½ head of purple cabbage, thinly sliced or shredded
½ red onion, sliced
2 tablespoons avocado oil
1 tsp garlic powder
½ teaspoon ground mustard (optional)
½ tsp sea salt
½ tsp fresh black pepper
1 tbsp ghee (clarified butter) or butter (Kerry Gold Grass Fed)
Heat a large skillet on medium heat with the avocado oil. Once pan is hot, add the red onion and sauté until they are slightly softened. Then add the purple cabbage, garlic, salt and pepper. Sauté for 5-10 minutes, depending on how crisp you like the cabbage. Once it's cooked to your liking, add the ghee (or butter) and salt and pepper to taste.
Life Changing Tahini Chocolate Chip Cookies
Dessert has not been something that we do regularly, but like many people, quarantine living changed things up a bit. We found some delicious recipes that "scratch the itch" for dessert! This is from Kale Junkie.
Ingredients:
1 cup almond flour
1 cup tahini (ground sesame seeds)
1/2 cup maple syrup
1 egg (can use a flax egg if vegan or have allergy, 1 tbsp ground flax + 2½ tbsp water)
1 teaspoon baking soda
1 cup of Enjoy Life Foods dairy free mini chocolate chips (or cacao nibs)
1 scoop collagen peptides (optional, but great source of protein)
sea salt flakes for topping
Line a baking sheet with parchment paper and set aside. In a medium size bowl, mix together the almond flour, tahini, maple syrup, collagen peptides (if using), and chocolate chips. The dough should be thick. If it's not, add a little bit more almond flour.
Mix to ensure everything is coated well, and place in the refrigerator for 30 minutes. Do not skip this step!
While the dough is chilling, preheat oven to 350.
Remove bowl from the refrigerator, and add the egg and baking soda. Mix together until fully incorporated.
Using a cookie scoop or spoon, scoop dough and form cookies. Depending on the size of your cookies, you will get 10-12.
Bake for 10-11 minutes. Remove from the oven and let the cookies settle before eating! Sprinkle sea salt flakes on top.