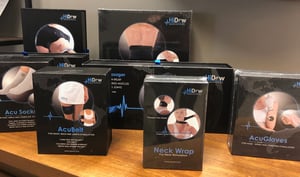 Whether it's short-term or long-term, pain can be truly disruptive to just about every facet of your life. Short-term pain can be profoundly distracting. While longer term pain sufferers may not even realize the level of discomfort they've begun to normalize until they've found a way to diminish it. At ReSet, our mission is to help people feel great, inside and out, and our newest offering that aids in pain management and can be done without leaving your house.
Transcutaneous Electrical Nerve Stimulation (TENS)
TENS is a noninvasive method for drug-free pain relief that's portable, fast-acting, simple to use, and especially during these COVID times… it's pain management without leaving the house. TENS units use low-voltage electrical pulses to interrupt pain signals before they reach the brain. A gentle current passes through electrodes that are attached to the skin near the site of pain or discomfort. Soothing pulses send bio-electrical signals through the central nervous system to help block the pain receptors. The brain then releases natural painkillers, called endorphins.
Additionally, these electrical pulses stimulate muscles and increase blood flow to the damaged or painful area. They provide therapeutic benefits and relief from back pain, neck and shoulder pain and joint pain while increasing circulation and promoting relaxation. This alternative therapy has been used by physical therapists, pain management clinics and personal trainers since the 1960s and now you can use it in the comfort of your own home.
Benefits of TENS
People who experience pain relief from TENS may be able to reduce their intake of pain medications, many of which have been proven addictive or have negative side effects.

TENS units are convenient because they are small, portable, and relatively discrete. People can carry a TENS unit in their pocket or clip it onto a belt to ensure that they have immediate access to pain relief throughout the day.

TENS units may help treat the following symptoms:
neck and back pain
shoulder pain
joint pain
inflammation from an inflammatory condition
painful menstrual cramps
They may also alleviate pain that results from the following conditions:
arthritis
sports injuries (sprains and strains)
multiple sclerosis
fibromyalgia
painful diabetic neuropathy
spinal cord injury
endometriosis
ReSet Lounge Now Sells HiDow TENS Units
ReSet is proud to offer HiDow professional strength pain management, muscle stimulation and muscle recovery systems. These hands-free, personalized pain management devices are the first to combine the pain relief of a TENS (Transcutaneous Electrical Nerve Stimulation) unit with the muscle stimulation improvement boosting power of EMS (Electrical Muscle Stimulation).
These TENS units are FDA cleared as a Class II medical device. They are portable, compact and rechargeable devices that interrupt pain signals to the brain, stimulating and relaxing the muscles through safe electrical charges to the pain area. With regular usage, HiDow pain management devices can assist with temporary pain relief and muscle relaxation.
They can be purchased in our Lounge at better pricing than you'll find online.