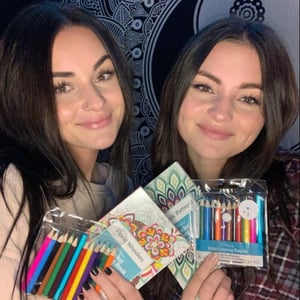 According to the National Science Foundation, an average person has about 12,000 to 60,000 thoughts per day. Of those, 80% are negative and 95% are repetitive thoughts.
Add a pandemic to the equation and one's mind is sure to be reeling. Fear, anxiety, stress, and isolation are the buzz words of 2020. Our brains have been in overdrive for most of this calendar year. So, how do we calm the chaos in our minds? How do we slow our thoughts and find peace within? Many psychologists, researchers and scientists believe we just need to pull out our coloring books.
The concept of adult coloring is originally credited to Carl Jung back in the early 1900s. Jung focused on Mandalas; the pattern of circles. He believed that circles represented wholeness in ourselves and the universe and maintained that having his clients design and color mandalas helped restore peace and internal calm. This therapy is still widely used today.
"Whether you use colored pencils to create your own drawings or doodle in an adult coloring book, your mind and body relax when you are engaging in a focused, soothing activity," says Dr. Carla Marie Manly, a clinical psychologist in Santa Rosa, California. "When the mind becomes focused on a creative task, worrisome thoughts tend to fade away. As the creative mind 'plays,' feel-good neurochemicals such as serotonin activate positive feelings of wellness and serenity."
Some researchers believe that returning to the childhood act of coloring helps one disconnect from the stress and anxiety of adult life. Coloring takes our mind back to a more carefree, simpler time. The lack of consequence for "coloring out of the lines" allows the central nervous system to completely relax creating a meditative state.
Other researchers believe that coloring actually relaxes the brain. According to clinical psychologist Scott M. Bea PsyD from the Cleveland Clinic, "When thoughts are focused on this simple activity, your brain tends to relax. You're not disturbed by your own thoughts and appraisals. The difficulties of life evaporate from your awareness, and both your body and your brain may find this rewarding."
So, the next time you're feeling stressed or anxious, reach for your colored pencils and doodle your way to a new state of relaxation. ReSet Lounge has stocked several coloring books and other mindful wellness gifts for this holiday season. Pop in soon and check out our offerings. They are sure to bring a little zen into your yuletide festivities.
Happiest of Holidays from all of us at ReSet Lounge!!!