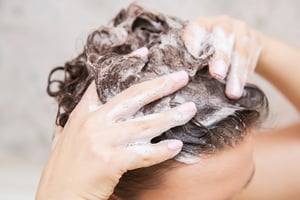 I struggled for years with scalp and skin irritation from shampoo. When I went in for allergy testing, it turned out I was allergic to Cocomidopropyl Betaine (CAPB). This is a synthetic fatty acid made from coconuts, so products that are considered "natural" can contain this chemical. It is found in many personal hygiene and household products because it helps water to bond with dirt, oil, and other debris so they can be rinsed clean. It turns out that, in 2004, the American Contact Dermatitis Society declared CAPB the "Allergen of the Year."
So the mission began to find a shampoo that made my hair content without causing a reaction on my skin. After many years of searching, I found Flourish Haircare in June 2019… and have been doing a little scalp happy dance ever since!
ABOUT FLOURISH (from Flourish)
To us, sensitive is synonymous with conscious, delicate + responsive.
While there is no universally recognized dermatological definition for sensitive skin, over half the population considers themselves in this category, including us. When you realize that you are more reactive to ingredients, textures and scents, finding what works for you may be like a puzzle you are trying to solve. And you might find that in your search to eliminate those commonly reactive ingredients you have to switch to boring options like unscented cleansers or cremes. No fun! Or you might believe that switching to "green beauty" options will solve your issues, only to find that isn't true.
There are plenty of very active ingredients (yay for plant power!) as well as common cleansers (cocamidopropyl betaine) and preservatives (phenoxyethanol) in the green beauty world that are known to irritate skin. We've found that even common liquid or bar soap can have a pH that is too high or leaves a residue that can aggravate.
We formulate our hair+skincare with these details in mind. We always consider more common allergens like nut oils or gluten and investigate less common reactive issues–making sure to not include the ingredients that cause them.
We're in charge of our production from start to finish. Every one of our recipes has been a labor of love. By creating them ourselves, we're experts in the how and why of every ingredient we use–rather than working with an end product that someone else created for us. We love what we do and how we produce it, and we'll never compromise or homogenize our recipes by outsourcing production.
Try Flourish at the ReSet Lounge
We offer a range of Flourish hair and skincare products at the Lounge in our retail section. Please come by to check them out in person, or you can order online as well.