Halotherapy, or salt therapy, dates back to the 1800s in Europe and Russia. Mining has long been recognized as a dangerous endeavor. However, those who worked in the salt mines were noted to have good skin, a younger appearance and better respiratory health.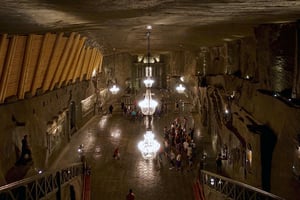 Doctor Feliks Boczkowski, also a businessman, opened the first health resort facility at the Wieliczka Salt Mine in Poland in 1839 (pictured here). I was lucky enough to tour this salt mine years ago. It was fascinating, restorative, and chilly!
Fast forward to the present, when we opened ReSet Lounge in 2019 and decided to offer our salt cabin as a primary service. We chose the delivery method of a halogenerator for its efficiency: 20 minutes gives benefits equating to over 60 minutes in a salt room.
Salt Therapy Benefits
To help you easily understand the overall benefits of salt therapy, I thought this listing from the World Halotherapy Association (we are members!) gave a thorough and clear explanation:
Worldwide, thousands of people have successfully improved their breathing and achieved natural symptom relief of what? From respiratory difficulties, congestion, and skin conditions.
Cleanse the respiratory tract and minimize symptoms of what?
Enhance respiratory function and breathe easier
Strengthen the immune system
Improve lung function and increase athletic performance
Improve the quality of life, reduce stress and enhance overall well-being
Symptomatic relief for adults and children with a variety of skin conditions including Acne, Dermatitis, Dry & Flaky Skin, Eczema, Psoriasis, Rashes, Rosacea, Skin Aging and Skin Inflammation
Anecdotally, I will share some of the feedback from our clients:
Immediately cleared sinuses
Just being in the cabin feels clean, healthy and relaxing
Didn't snore for two nights after a session
Cleared up a cold sore eruption after the session
Feet are smoother
Skin softer
Can Salt Therapy Fight COVID-19?
Salt is a natural detoxifier, but there is also emerging proof that it can neutralize COVID-19 droplets!
Professor Hyo-Jick Choi, a biomedical engineer based out of the University of Alberta, realized that salt can aide in the fight against COVID-19 and other viruses. He is in the process of working with others to commercialize a mask that is coated with salt. When droplets (such a saliva or phlegm from coughing, sneezing, speaking or even breathing) are airborne, they are first captured on the surface of the mask and then neutralized, thus stopping not only transfer to the wearer's mouth and nose, but the subsequent transfer from the mask to hands or other surfaces. So a mask that doesn't just block harmful pathogens but actually kills them.
Professor Choi is quoted as saying, "We've tested our system on three different influenza viruses and have shown that the virus on the surface of a coated contaminated mask is inactive within five minutes and completely destroyed within 30 minutes. I believe that technology should be equally effective against coronavirus."
So, what does this all boil down to? Our salt cabin is healthy and safe to use. The cabin runs a vigorous cleaning cycle after every use to circulate and clean the air. Salt therapy is a natural way to improve our respiratory health, bolster our natural immunity and improve a variety of skin conditions. Natural is good!