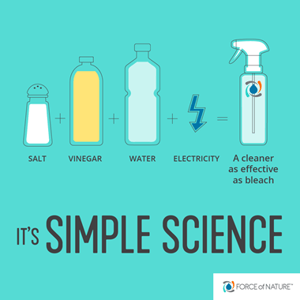 The responsibility of keeping spaces clean and free of bacteria and viruses weighs on us all, whether in our homes or workplace. At ReSet, we set an internal goal to use products with the lowest levels of harmful chemicals and toxins possible to maintain our space. We have had strict protocols since we opened but like everyone, we reflected when the pandemic hit. Were our natural products effective enough? Did we need to switch to stronger chemicals?
With research we were ecstatic to find a way to use science to be effective with natural ingredients. Force of Nature is the company / product line we found that brings industrial based techniques to all of us affordably.
This is an EPA approved disinfectant for Use Against SARS-CoV-2, the cause of COVID-19. We love it so much we have set up an affiliate program with their company so you can try it with a discount. We have found that cleaning this way is effective and actually saves us money.
How Does it Work?
The Science behind the product is borrowed from practices used in industrial applications. Salt, water and vinegar are converted to electrolyzed water when an electrical current changes the chemical composition of the solution into two new ingredients:
HYPOCHLOROUS ACID

The same germ-killing substance your immune system makes. So gentle that it is used in wound and eye care products.

SODIUM HYDROXIDE

A detergent common in toothpaste, skin care and cleaners. It contains only .0000003%, yet cleans as well as the top cleaning brands.
What you are purchasing is the appliance to create the solution and pods with the correct balance of salt and vinegar. You add your water (well, hard water, city water - all good), let the machine do it's thing for 10 minutes and then you've got your cleaning / disinfecting solution.
What is so exciting is that this approach has been scaled so that we can all benefit from it. In the past it required equipment too expensive to scale, technology advances have change that. Like anything, it's important to do it right. To maintain effectiveness and the proper formula, the capsules should be used and the solution re-made if not used within two weeks.
Can it Replace Other Products?
The really cool news is that this product doesn't just kill bacteria and viruses, it really cleans. You can use it on sticky messes, grease, oil, grime, soap scum, odors and pretty much any other mess that comes your way.
It replaces kitchen, bathroom, glass and rug cleaners, disinfectants, sanitizers, deodorizers and bleach. It's just as effective as conventional cleaning products and deodorizers without toxic chemicals.
It's safe to use on sealed stone.
What Will Seem Different?
If you are used to spraying bleach or other similar products when you clean you will notice some differences.
Odor: There are no added fragrances, so the only odor you may sense is like a swimming pool. That swimming pool scent results from trace amounts of chlorine generated during the electrolysis. The chlorine ultimately converts to hypochlorous acid, the active ingredient in Force of Nature. Hypochlorous acid is the same ingredient commonly used in wound healing, eye care & veterinary care products because it's so safe and effective. It's also the same substance your immune system produces to fight infection. Note that you should not add essential oils or any other fragrances to the solution or you will impact the chemical balance and effectiveness of the solution.
Whitening: Force of Nature cleans mold & fungus as effectively as bleach & prevents it from returning. A key thing to know is that because it doesn't contain any whiteners (like bleach), it won't remove set in staining on porous surfaces like grout.
There is a huge amount of information available if you want to learn more.