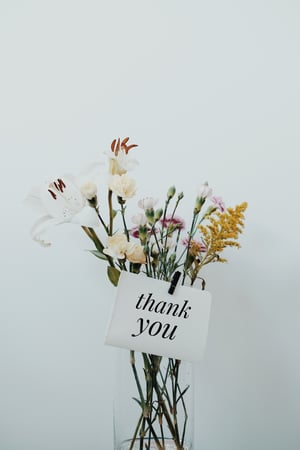 The workplace is very different than it was last year. Essential workers have been tasked with tremendous responsibility to keep food on our tables, care for our sick, keep our elderly safe and connected - not to mention the many civic services we count on to run effectively. Stress and fear have permeated the lives of everyone who has consistently, physically gone to work. For others, working from home has presented different challenges with feelings of disconnectedness and increased stress.
So how do we say thank you this year when office parties require too many numbers? How do we show our employees our deep appreciation for their efforts and provide ways to keep team morale high?
Get creative with your gratitude and give the gift we can all use this year - the gift of a break, a ReSet. We are launching a new way to show appreciation to your work team, clients and everyone who help keep the cogs of your life turning.
Our curated offerings are not only unique in the Midwest but affordable and customizable. We have several options for those looking for something special to share.
ReSet Lounge Gift Certificates in any dollar value
ReSet Lounge Prepaid Tokens good for a single core service appointment
Private Rental of the ReSet Lounge
ReSet Gift Certificates
Always appreciated, gift certificates can be used by the recipient to purchase ANY service or product provided by ReSet. Physical gift cards can picked up at the Lounge or call us to arrange for mailing. Digital gift cards include a custom sentiment and can be scheduled for delivery on a specific date. Gift cards are available at any dollar value and can be used by the recipient within one year of the date of issue.
ReSet Prepaid Tokens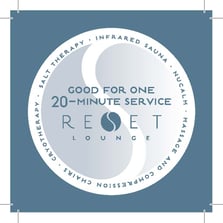 A unique way to have gifts handy at any time, ReSet appointment tokens are a perfect way to say thank you! Each token can be used for a core ReSet service: Infrared Sauna, Salt Therapy, Massage and Compression Chair or NuCalm Neuroscience Therapy. These tokens never expire and can be used for as many appointments as tokens on hand. Each is packaged beautifully for gift giving and to be protected in your briefcase or purse!
The ReSet token option fits traditional gift giving budgets. Individual tokens are $20 and quantity discounts apply.
| | | |
| --- | --- | --- |
| Number of Tokens | Price Per Token | Total Price |
| 25 | $19 | $475 |
| 50 | $18 | $900 |
| 100 | $17 | $1700 |
Private Lounge Rental
ReSet Lounge offers a versatile and relaxing space that you can share with your family, friends, or business associates. By reserving the Lounge for a private event, you are offering your group a safe, clean and healthy environment where you can ReSet and ReLax.
You choose who attends, up to 10 people
Choose 1.5 ($300) or 2.5 ($500) hours
Services can be rotated according to your preferences
Equipment will be sanitized between each service
Your own food and beverages can be brought in for a festive feeling in this private bubble!
Show Your Team You Care About Their Wellbeing
It is more important than ever to say thank you to all the people that have supported you in your business. Showing you care by providing experiences that decrease stress and improve overall wellbeing in a safe setting will make you a superhero in your work life.